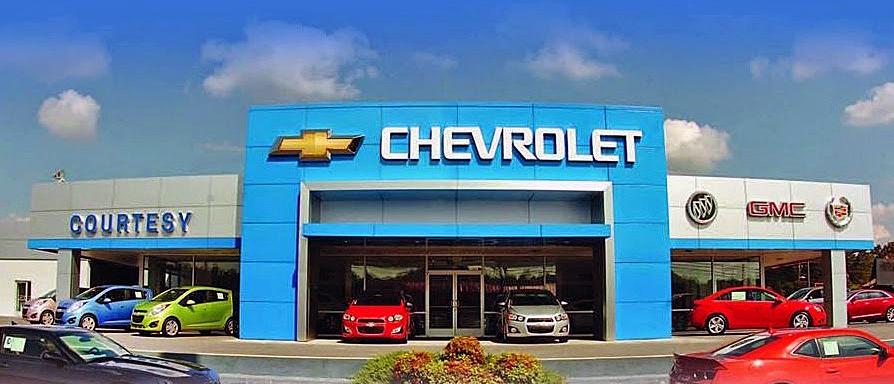 High-Quality Auto Dealership Serving Kingsport and Beyond
What matters the most when you visit an auto dealership in Kingsport? Is it the variety of options in the new and used inventories? Is it top-of-the-line auto repair or mind-bending savings? Or maybe it's something else. Something that other dealerships in Johnson City pay very little attention to. Something that we fully understand here at Courtesy Chevrolet Buick GMC. What matters most at a dealership? You do. You weren't expecting that, were you?
Convenience and Customer Service
It's all about you at Courtesy Chevrolet Buick GMC. It's about extending every courtesy in your direction, so your shopping experience is second to none. We will roll out the red carpet upon your arrival. You won't have to flag down any of our sales representatives for attention. Our customer service reps are trained to make you feel like a celebrity during every visit.
We move at your pace. There's no pushing or prodding to buy a vehicle. Take as much time as you'd like. Test drive as many cars as you want until you find the right one. Your wish is our command. But if you want to avoid the in-person experience, we've got convenient at-home tools to make it happen.
You can shop, click, and drive in a matter of minutes. You can locate a specific vehicle with our car finder tool, watch informative videos about your vehicle, apply for financing, and more. You'll be scheduling a pickup time for your vehicle before you know it.
New Chevy, Buick, and GMC Inventory
How do you want to get around Bristol, TN? In a Buick SUV, a Chevy Coupe, or a GMC truck? We've got a variety of options in stock today. You can test drive the powerful Chevy Camaro, spacious Buick Encore, or the versatile GMC Sierra. The choice is yours. Our job is to ensure that you have as many choices as you can handle.
Flawless Used Inventory
If you want to bypass our new inventory and check out what we've got to offer pre-owned, you're welcome to it. In fact, many other drivers in Greeneville have done the same thing. Especially when they got a load of our inventory. We've got over a dozen high-quality vehicles in stock.
There's luxury choices from Mercedes-Benz and Lexus to economical vehicles by Ford, Nissan, and Toyota. We've even got a great selection of powerful coupes and attractive convertibles in stock.
Additional Services
We offer convenient financing options. That includes special incentives for new vehicles and money-saving options for pre-owned models. You can browse our complete listing of money-saving possibilities and find the deal that suits you best.
And if you need dependable auto repair in Kingsport, our veteran mechanics will be ready to assist. They've got decades of combined experience in auto repair. No matter which make or model you have, they'll be able to get your vehicle serviced and back on the road in no time. You can schedule your appointment online or stop by in person.
Courtesy Chevrolet Buick GMC
While we have an amazing selection of automobiles, great discounts, and impeccable auto repair service, it's all nothing-without you. You're the most important part of any auto dealership in Kingsport. And it's time you've been treated as such. Stop by today and let us roll out the red carpet for you.